THE LECTURES OF THE INSTITUT D'ASTROPHYSIQUE DE PARIS START ON JANUARY 4th, 2016
The first of the lectures organized by the IAP will take place from January 4th to 8th, 2016, every day from 2 pm to 4 pm. The lecture will cover stellar physics and will be delivered by Georges Meynet, from the University of Geneva. The two subsequent courses planned in 2016 will address black holes physics, and then the formation and evolution of galaxies.
These lectures newly created by the IAP address topics related to research in astrophysics, and are aimed for PhD students, post-docs and researchers. They are intended to broaden everyone's fields of interest, and will contribute to establishing the IAP as a place of exchange and culture. These introductory lectures are open to all interested researchers and students. They will be given in English in the Henri Mineur amphitheater. Each series of lectures contains 5 to 6 two-hour-long sessions. The lecturer will present the main physical concepts using order-of-magnitude estimates, and will explain in detail the derivation of analytical results. In each lecture, at least one application of the described principles will be addressed in light of recent research works in the field.
Program: http://www.iap.fr/vie_scientifique/cours/cours.php?nom=cours_iap&annee=2016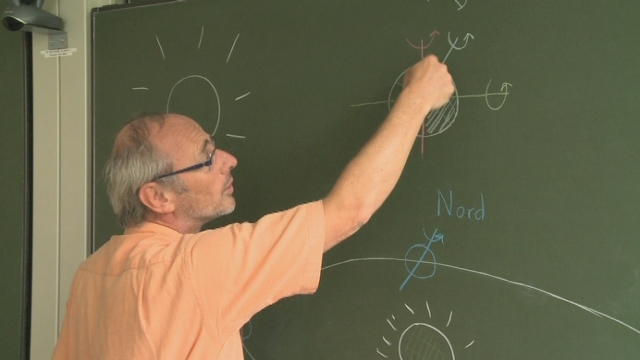 Georges Meynet - Université de Genève [© Radio Télévision Suisse]
December 2015