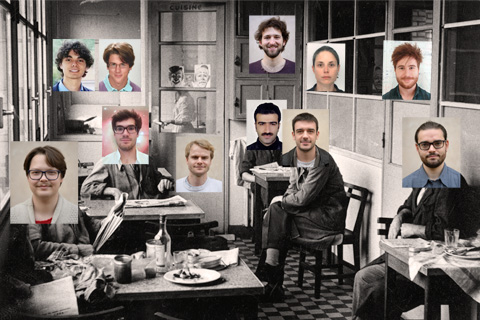 The former cafeteria on the IAP's 2nd floor, at the beginning of the 1950s.
© J. Mouette IAP-CNRS-SU
WELCOME TO THE CLASS OF 2018!
The new class of PhD students and post-doctoral fellows have joined the IAP in the fall of 2018.
During the welcome meeting that was held on November 20th, the IAP directors presented the activities of the lab and the organization of research in France. The diversity of the subjects that will be researched by these young scientists is large. Representative of this fact, their work at the IAP is funded by many sources: ministerial scholarships (including ENS and CIFRE contracts), CNES scholarship, ANR fellowship, and European fellowships (to find out more, see Partnerships). The entire staff of the IAP wishes them a fruitful stay, and many rich scientific exchanges.
The laboratory also congratulates the new doctors, who recently left the Institute at the end of their theses.
PhD students
Emmanuel Arbouch
"Asteroid detection and monitoring with the eVscope telescope by Unistellar"
Alexandre Barthelemy
"Using higher order statistics to characterise galaxy clustering and weak lensing: from theoretical challenges to observations
Raphaël Duque
"Gamma-ray bursts physics in the gravitational wave era"
Lukas Furtak
"Distant galaxies through gravitational telescopes"
Quentin Henry
"Evolution of a binary system of spinning compact objects before merger at the fourth post-Newtonian order"
François Larrouturou
"Alternative theories of gravitation and gravitational waves"
Sandrine Lescaudron
"Radiation of supermassive black holes in the core of galaxies"
Florian Livet
"Modeling galaxy evolution using image simulations, Bayesian inference, and dimensionality reduction with neural networks"
Lucas Pinol
"Study of multi-field mechanisms during cosmological reheating"
Post-doctoral fellows

| | |
| --- | --- |
| Hassan Fathivavsari | "Search for ghostly damped Lyman-α systems in the Sloan Digital Sky Survey eBOSS-DR14 sample" |
| Jacopo Fumagalli | "Geometrical destabilization of inflation through analytical ways Stochastic formalism of inflation, models of inflation with curved field space from the point of view of renormalization and quantum field theory in curved spacetime" |
| John Ronayne | "Geometrical destabilization of inflation through numerical ways. Inflation phase known as 'sidetracked' in a general context" |
Web editing: Valérie de Lapparent
Layout: Jean Mouette
December 2018