Secret Garden at Recherche Bay - 1792
by Françoise-Kyou Jouffroy-Gauja, Jean-Philippe Beaulieu & Jadzia Donatowicz.
96 pages, 53 illustrations in colors, format 4to, softcover, 400 copies. Published in February 2016.
Price : 35 Australian dollars + shipping from Hobart Australia.
If you are interested in ordering this book, contact us at :

Payment by paypal or bank transfer. Information provided by email.
You can also find the book in Hobart: Hobart Bookshop, Fullers Bookshop, Astrolabe Booksellers.
And in Cygnet at Southern Swans
The book was launched at the Hobart Bookshop on February 24, 2016. (Photos)
Summary: It is April 23 1792. Felix Lahaye, a young Gardener-traveller in the court of the King of France, unexpectedly lands at Recherche Bay in Tasmania, together with the two vessels La Recherche and L'Espérance of the French expedition led by the Rear-Admiral d'Entrecasteaux. That same day, Lahaye carries out the two main tasks of the assignment for which he has been commissioned: collecting seeds and plants from the area while exploring the local flora with the botanist Labillardière, as well as sowing and pricking out the seeds and plants he has brought from Europe. It was during that time that he laid out a small vegetable garden measuring 7 by 9 metres, subdivided into four beds. Some seeds thrived there for a few months only, as Lahaye could see when the expedition called in again at Recherche Bay in 1793. In 2003, a stone structure matching the description and approximate location of the garden was discovered in the eucalyptus forest and bushes of the northeast peninsula of Recherche Bay. The area became the focal point of a new confrontation between landowners, logging companies, politicians and the people from Tasmania before being finally protected for the generations to come.

This book describes in detail the story of Felix Lahaye and the French Garden in Tasmania, as discovered through reading the records produced by the main participants, marine officers, scientists, and above all, as meticulously documented in the handwritten travel diaries by the Gardener himself.
The 53 illustrations include excerps from Felix Lahaye handwritten diary, 2 drawings made during the expedition at Recherche Bay, large number of etchings,old maps, sample of plants collected 200 years ago at Recherche Bay. And finally, a watercolor presenting Félix Lahaye.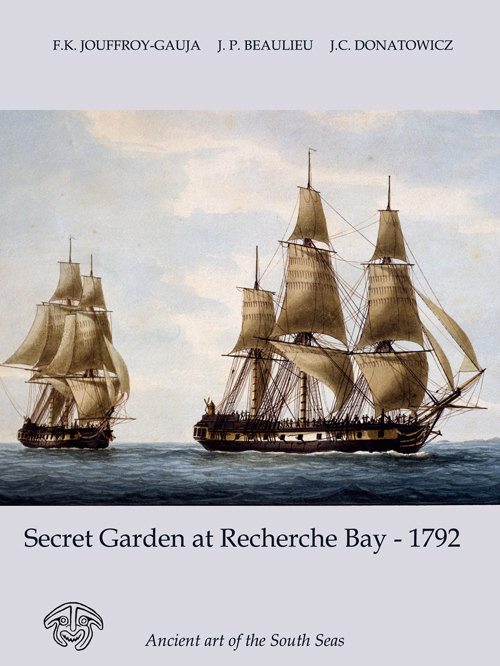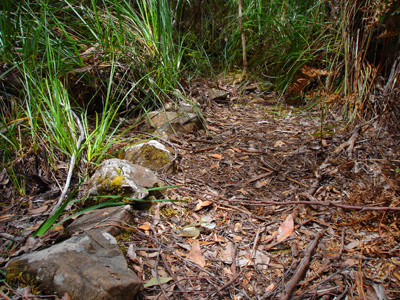 The remains of the French Garden planted in 1792 at Recherche Bay. (Photo Beaulieu, 2005)