CosmoGold IAP 2019

The golden age of cosmology from Planck to Euclid
24-28 June 2019, IAP, Paris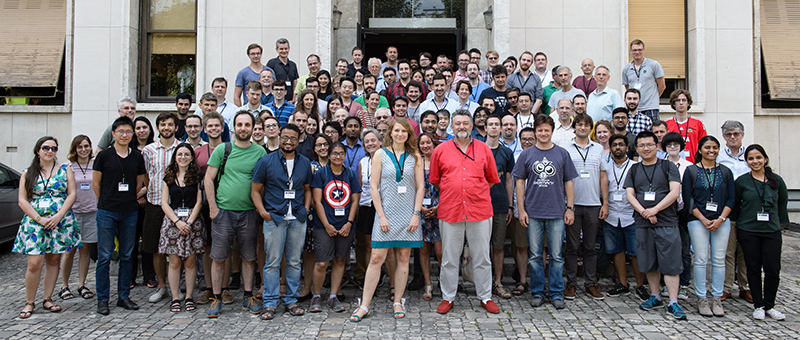 Cosmology is living a scientific golden age characterized by an unprecedented amount of high-quality data. A very large number of different experiments, aimed at observing the universe from the very early times of the Cosmic Microwave Background till the latest evolution of the Large Scale Structure, are currently testing cosmological models and measuring cosmological parameters at percent and sub-percent level.
The conference will be a landmark of our current understanding of the universe in a moment of transition between the two largest ESA missions on this subject, the Planck satellite, whose final data release happened mid-2018, and Euclid, slated for launch in 2021.
This conference will therefore be the perfect occasion to review the agreement or disagreement among CMB and non-CMB experiments (weak lensing, BAO, BBN, local measurements of H0, gravitational waves, etc..) and to discuss the open issues and questions left for the future, both from the theoretical and experimental point of view. This will naturally lead to discuss how the upcoming and future experiments in cosmology, such as Euclid as well as other CMB and large scale structure probes, will help answer these questions, and hopefully might even lead to totally new ways of addressing them.
Invited speakers
Robert Brandenberger
Phil Bull
Anthony Challinor
Olivier Doré
Ruth Durrer
George Ellis
Josquin Errard
Raphael Flauger
Wendy Freedman
Daniel Grin
Gigi Guzzo
Alan Heavens
Hendrik Hildebrandt
Shirley Ho
Wayne Hu
John Kovac
Elisabeth Krause
Anna Ijjas
Antony Lewis
Michele Liguori
Luca Pagano
Mickael Rigault
Daniel Scolnic
Elena Sellentin
Jan Tauber
Romain Teyssier
Anja von der Linden
Martin White
Joe Silk
Alessandra Silvestri
Suzanne Staggs
Sherry Suyu
SOC
François Bouchet and Silvia Galli (chairs, IAP)
Francis Bernardeau (IAP)
John Carlstrom (University of Chicago)
Chiara Caprini (APC)
George Efstathiou (University of Cambridge)
Fabio Finelli (INAF-Bologna)
Catherine Heymans (University of Edinburgh)
Henk Hoekstra (Leiden University)
Eiichiro Komatsu (MPA-Munich)
Eva Silverstein (Stanford University)
Benjamin Wandelt (IAP)
LOC
Silvia Galli and Francois Bouchet (chairs)
Sandy Artero
Karim Benabed
Valérie Bona
Eric Hivon
Suvodip Mukherjee
Lionel Provost
Nitaya Singsengsouvanh
Code of conduct
We are committed to making this conference productive and enjoyable for everyone, regardless of gender, sexual orientation, disability, physical appearance, race, nationality, or religion. Discrimination or harassment of participants in any form will not be tolerated.
Important dates
December 2018 :
Pre-registration is open !
April 1st 2019:
Pre-registration closes
April 15th 2019:
Registration will open
May 15th 2019:
Normal registration and payment closes