DOOGESH KODI-RAMANAH WINNER OF THE SF2A THESIS PRIZE IN 2020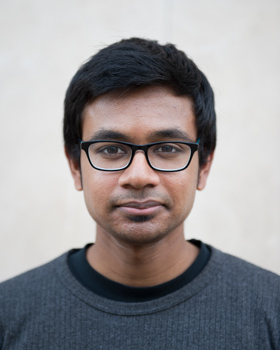 Credit: Jean Mouette /IAP-CNRS-SU
The thesis prize (in French) of the Société Française d'Astronomie et d'Astrophysique is awarded on April 14, 2020 to Doogesh Kodi-Ramanah, for the thesis he defended at the Institut d'astrophysique de Paris (IAP).
The huge volumes of complex data coming from the next large spatial or ground surveys aimed at mapping the cosmic microwave background (LiteBIRD) or the distribution of galaxies at large scales (Euclid, in French), pose major statistical challenges. By solving with methodological rigor difficult numerical problems, Doogesh Kodi-Ramanah has designed efficient and precise data analysis tools, using Bayesian inference techniques and deep learning by neural networks. These approaches contribute in an innovative way to improving our knowledge in cosmology, that is our understanding of the origin, nature and evolution of the Universe.
Dogesh Kodi-Ramanah completed his thesis at the Institut d'astrophysique de Paris (diploma granted by Sorbonne Université), under the supervision of Guilhem Lavaux and Benjamin Wandelt.
Links

More details (in French)
on the SF2A Facebook page
.
Web editing: Valérie de Lapparent
Layout: Jean Mouette

June 2020