"Astronomy is showing off" 2014 Cap'Com Communication Grand Prize award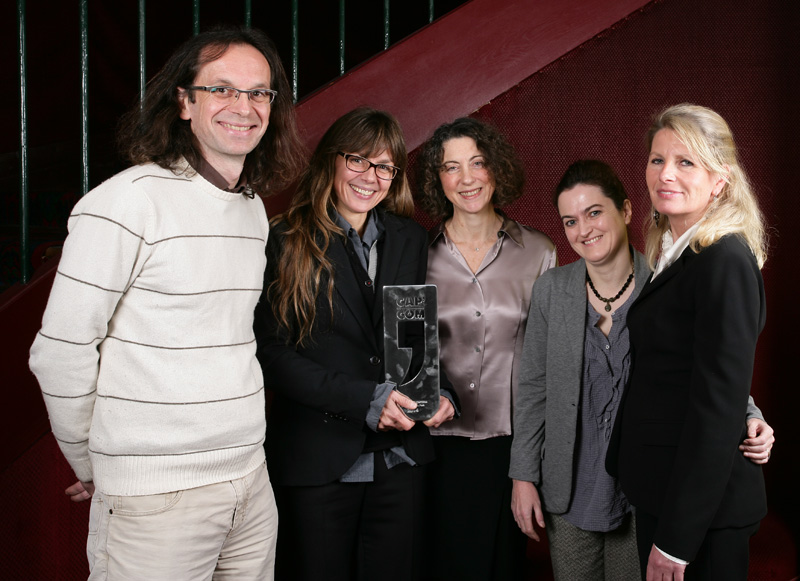 From left to right: Nicolas Lesté-Lasserre, Sabrina Thiéry, Valérie de Lapparent, Frédérique Auffret et Hélène Hutchinson
© Copyright Cap'Com 2014
The communication campaign « l'Astronomie se la raconte » ("Astronomy is showing off") was awarded the first prize in the "Understanding of the Institution" category, at the 26th Grand Prize of Communication organized by Cap'Com, the territorial and public communication network which unites twenty five thousand professionals in more than 200 institutions and local communities.
The award was presented to the Direction of communication team of the Observatoire de Paris and Valérie de Lapparent, directrice de recherche at the Institut d'astrophysique de Paris, during a ceremony that was held on December 9th, 2014, at the Opéra-théâtre in Metz. The grand jury, composed of public figures in Communication and Media who met at the Assemblée nationale, was chaired by Corinne Lepage, former Ministry of environment and member of the European Parliament. They emphasized the originality of the concept, graphics and content of the posters.
L'« Astronomie se la raconte »: posters, a website, an exhibition event.
The campaign was lead by the Direction de la communication of the Observatoire de Paris with the goal to present to the general public attractive and aesthetically pleasing posters on the subjects of "Astrophysics and the Conditions for Emergence of Life" (ACAV) thanks to an original use of advertising techniques. The campaign was funded by the « Domaine d'Intérêt Majeur » ACAV of the Île-de-France Region and each of the 18 posters corresponds to one of the major areas of research undertaken in 19 laboratoires in Île-de-France. The purpose was to highlight the great diversity of research and inform the public about progress in these fields.
The Agence Multimédia Sorbonne (affiliated to the professional Master "Multimédia Interactif" of Université Paris I Panthéon Sorbonne) made the posters and website as well as the panels and stage design of the exhibition event. Seven Masters' students - illustrators, graphic designers, writers, developers-programmers and designers - drew their inspiration from science topics and current events suggested by the Observatoire de Paris' communication team, in close collaboration with researchers from Île-de-France.
515 posters were displayed in Parisian and metro and RER carriages during April and May 2014.
As well as the posters, a website www.lastronomieselaraconte.fr was created to provide educational resources about each topic.
As a culmination of the campaign an exhibition event took place on the week-end of May 31st and June 1st, 2014, on the "Berges de Seine" in Paris (Port du Gros-Caillou). The posters and the educational resources were exhibited in the form of 18 panels. Workshops on several key topics in astronomy were also proposed to the children.
The website www.lastronomieselaraconte.fr
Pictures of the panels at the premises of the exhibition event and panels' PDF files
Pictures during the exhibition event
L'« Astronomie se la raconte » on Facebook and on the blog by Guillaume Cannat for "Le Monde"
Contact:
Valérie de Lapparent - Tel. 00 33-1- 44 32 81 37 - lapparent at iap dot fr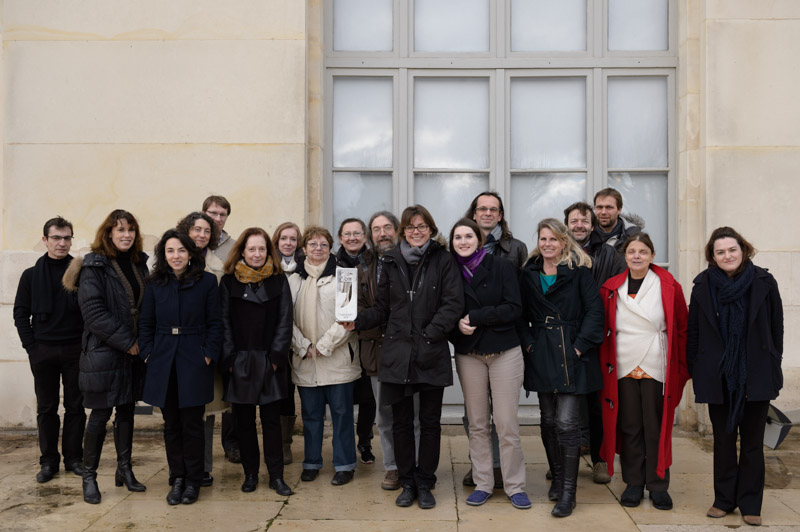 Part of the DIM-ACAV group, in front of the Paris Observatory, on January 30, 2015.
© Jean Mouette IAP-CNRS-UPMC
February 26, 2015