The scientific sessions will take place at the Institut d'Astrophysique de Paris (IAP), located in the park of the Observatoire de Paris close to centre of Paris. IAP is easily reachable from the two Paris airports: Charles de Gaulle through RER B (a special metro line) and Orly through a bus (OrlyBus) with terminus in place Denfert Rocherau (3 minutes walk from IAP, see map on this website). IAP is located in a central neighborhood (14th "arrondissement") and well connected to the rest of the city through buses, metro lines L4, L6 and RER B.
Participants should take care of their accomodation by themselves; based on our previous guest experience, we provide an hotel list in our site with a special rate for the participants to the conference for some of them.
We have also selected some restaurants nearby the IAP. They will be the best options during the lunch session. The map and the list is available below.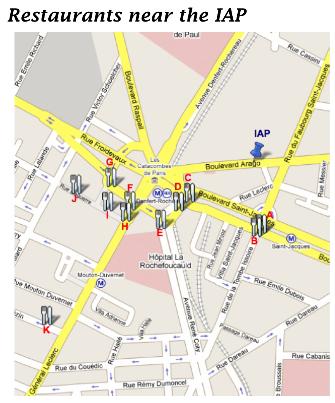 A. Brasserie le Narval (28, Rue du Faubourg Saint-Jacques)
Very nearby IAP, serves inexpensive good lunch (salad, omelette, croque monsieur etc..)


B. Chez Mamouti (3, Rue Tombe Issoire)
Algerian restaurant, reasonable price and good food.
C.Le Denfert Cafe (58, Boulevard Saint-Jacques)
Cafe very near the IAP, cheap and reasonable.
D. Apollo (3, Place Denfert Rochereau)
Right next to the RER station (Denfert-Rochereau)
E. Le Lakanal (2, Avenue René Coty)
F. Le Rendez-Vous Denfert (2, Avenue Gén Leclerc)
Casual cafe + brasserie
G.Swann et Vincent 14 (22, Place Denfert Rochereau)
Nice Italian restaurant (but no pizza!)
H. Le cafe Daguerre(4, Avenue Gén Leclerc) Typical French brasserie

I. Le Rallye Peret (6, Rue Daguerre) Another typical French brasserie

J. La Chope Daguerre (17, Rue Daguerre) Pleasant on the pedestrian street, enjoyable and reasonable price.

K. Chez Charles-Victor (8, Rue Brézin) Good food, reasonable price.